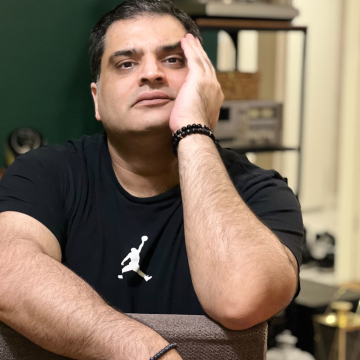 Faisal Khan Profile
Hello, my name is Faisal Khan. I've spent the last 25 years working and associated with the Internet, doing business online, and working within the banking and payments ecosystem.
Professional Career
I am a seasoned Banking & Payments Consultant. My area of specialty is cross-border payments, and within this arena, I work with B2B, B2C (including mass payouts), and P2P (home remittances) companies.
I am well versed in various segments of the value chain for x-border funds movements, such as money transfer licenses, regulatory frameworks, access to MSB-friendly banking, correspondent banking relationships, FBO accounts, bank-led sponsorship, licensing coverage, payment networks, card processors, compliance, aggregators, AML/KYC setups and IT infrastructure provider (including mobile money apps).
Intimately versed with and very much a proponent of the cryptocurrency space especially when it comes to cross-border value transfer including newer, innovative methods involving blockchain (distributed ledger technology) and utility tokens used for cross-border value transfers.
I have years of field experience which I add to continuously by conducting various field studies. I am a firm believer in working out of my comfort zone – to get answers. I subscribe to the theory that 'data drives decisions'.
My network within the space is well respected and I actively network with regulators, liquidity providers, legal/compliance experts, deal-flow brokers, bankers, and top management of various companies.
My clients include Fortune 500 & Fortune 1000 companies, Banks, Trans-Global Multinationals, and Small to Medium Financial Services Institutions.
My Education
I hold a Bachelors in Electrical Engineering and Masters in Electrical Engineering (Major: Electromagnetics) both from Florida Institute of Technology.
My Alma Mater
Florida Tech, my alma mater is in a small town (called Melbourne) on the Space Coast of Florida. Claim to fame: Jim Morrison lead singer of The Doors was born in Melbourne, Florida. I minored in Arts & Architecture (though our university officially does not give a minor degree). If you are curious to know, Marc Chagall is my favorite.
Family
I'm married to Anika Khan, and have two very beautiful children. Son: Omer Mikhail Khan (age 20) and my weakness, my daughter: Fevziye Ahmed Khan (age 16).
Oddities
I stopped watching the TV and reading the newspaper since 2006. Never felt happier in my life (and saner too).
Interests
I am an avid lover of old bookstores / old books, and just go gaga over flea markets and antiques.
I find many ways to keep myself occupied, from collectibles to collecting postcards (hey, if you want to send me a postcard, that would be like uber-cool).  I enjoy Jazz (vintage jazz that is), two favorite Jazz radio stations I listen to are Martini In The Morning (what a beautiful name) and Bop City Vintage Jazz.
I also like Operas, Deep House Music (yes – contradictory). Needless to say, as the kid of the 80s, I am absolutely in love with that music. 80s music rocks!
I am a Type nerd. Though I must profess I am not highly knowledgeable in it. Learning as I go along. Aesthetics and Balance is very important to me. I am an Apple fanboy.
I contribute on Quora quite a lot. I have answered over 5000+ answers on Quora and have been awarded the prestigious Quora Top Writer Award six times in a row (making me one of 70 people in the world who have had that accomplishment). See my profile on Quora.
Die-hard foodie. The different types of foods I enjoy – Korean, Japanese, Arabic (especially Lebanese), Italian, French, and any kind of seafood.
I do enjoy B&W photography. Books are my weakness and are a very distant second, after my family. I could drown myself in books all the time. I cannot enlist a favorite author or favorite book for you. Too many, but if it has writing on it – chances are I would read it. I have recently over the past couple of years, taken an avid interest in History and Geography. Two subjects I used to shy away from when I was young and now very much love them.
As with almost everyone else, I love movies. I can pretty much watch any genre with the exception of comedy or horror films. I try to avoid them, it's not that I don't watch them entirely. Combine movies and history, and you get a very lethal combination. An honest Update, I don't get to watch too many movies now. I am now extremely frugal with my time.
Other interests include  Vinyls,  Astronomy, music, a/v aficionado,  love trivia, stand-up comedy, cooking, guns, alcohol (from wines to a killer martini), I enjoy them all.
Goal in Life
My goal in life is to inspire others to seek their good fortunes and to boost themselves by using the internet.
As a teacher, it is about giving to others and not necessarily taking from them. I love to inspire people on how they can make their lives better. My goal is to use my skills, network, and the talent pool I have access to for the betterment of others to seek their good fortunes and amplify themselves with the advantage of having access to the Internet.
Babushka99 Handle
What's the backstory on the handle: "Babushka99" ?
Many of you, who know of me (online) also know that I mostly use "babushka99" as my online handle/nick. You've probably thought, what the heck does that mean? why does he call himself that?
Here is the answer as to why I call myself "babushka99?
When I was in college, in the 1990s (early). I was infatuated with CIA/KGB books. So much so, that I enrolled in a Russian Language class (yes, I can speak the language……somewhat rusty!). At the same time, a movie came out called "SNEAKERS"  — one of the characters a lead hacker in the movie is called "Mother".
Babushka if you don't know – means Grand Mother in Russian. It is also referred to as a beret (cap) in Polish, and Kate Bush has a song called Babooshka.
Anyhow, since we were very much plugging into the internet, BITnet, FIDOnet, COMPUServ for the very first time, I choose my nick as Babushka.
The "99? got added to it – to be almost 100% sure that whenever I apply for a User ID, the Username "babushka99? would always be available.
So the name is a combination of the CIA/KGB fascination, Russian Language, and the Grand Master association to Hacking from the Movie SNEAKERS.
Contact
If you need to get in touch with me, my address is faisal /dot/ khan /at/ hey /dot/ com.